Actually I am talking about two sensational surfaces here. One is the store: Surface, located at 1235 SE Grand Ave., Portland, OR 97214. The other is Kerlite Porcelain Tile. I'm always on the lookout for cool looking, new and innovative materials to inspire great design ideas for interiors, so I was delighted to be invited to a new product party held at Surface last week. They have some amazing new products for flooring, backsplashes, countertops & walls, and also an intriguing material that can be used in place of glass in cabinet doors, interior sliding doors as well as other unique applications. Rather than cram all this great stuff into one long post, I'm splitting it up, so keep your eye open for "part 2″ and so on.
First I'd like to tell you a little about my experience with the store. Surface is a truly unique finish materials boutique. I recently worked with them to help one of my clients select flooring, countertop and backsplash materials. My sales person was David Horn. His professionalism, helpfulness with my client and expert product knowledge was all first rate. The staff members are all very respectful of the designer/client relationship and will help you as much or as little as you want. The showroom has a warm and comfortable ambiance with nice big work tables to lay out and compare all your possible choices. Enormous windows give you great natural light so you can really see the colors and textures. If you like a little privacy, they also have a separate conference room where designer and client can really brainstorm uninterrupted.
For my last client, I went in alone to preview their selections, then when I knew I was coming in with my client, I phoned ahead and David had all the selections pulled out and arranged on a work table for us when we arrived. Their vast selection is encased in big rolling carts so not everything is on view at once. Initially, I thought this would make it harder to view products, but after being in there with a client, I really appreciated that this display system kept us from going into overwhelm or being distracted with too many choices.
*******************
Kerlite:
This product is an ultra-thin – just 3 mm –  super strong, porcelain tile that comes in seven sizes, including huge sheets. You can use it on floors or walls, but here is the very cool thing — you can put it right over existing materials including old tile or even linoleum without having to take out the old material. This is true even going over textured floor tiles.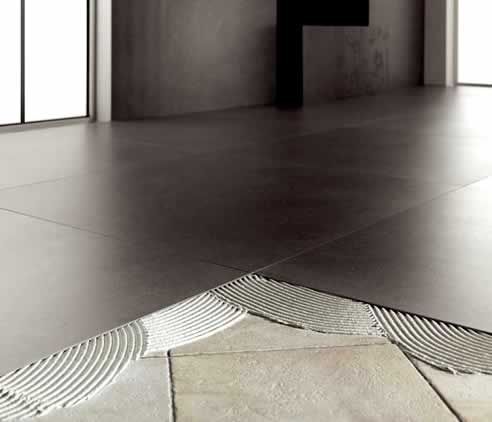 Available in 26 colors and 3 finishes, my favorite is the tone-on-tone floral pattern. The photos of the bathrooms and living room are from the manufacturer's website and they show the use of the huge sheet sizes to minimize grout lines. It's also perfect for great kitchen design applications such as backsplash walls.  Kerlite is even frost proof so it can be installed outdoors. I'm told that this product has even been installed as siding on a home exterior. I'd love to see that.
In keeping with my desire to find sustainably made options for my clients, according to Coto d'Este, Kerlite ceramic tiling material is "obtained from natural and carefully selected raw materials, such as light clays and pure feldspars," and "firing is carried out in electric kilns without any release of polluting fumes." With seemingly endless uses in both interior decor and exterior design applications, it is a product worth checking out. As porcelain tile goes, this is rather high-end, retailing around $12 per square foot. But for the amazing flexibility and lack of demo work, it could be a great idea for your next design project.