Baby, It's Cold Outside!
As the rain has started to come down in sheets and the nights have turned COLD, my fireplace has been put into use in a big way. Many years ago, urban living in lofts, condos and apartments meant living without a fireplace. But technology has changed all of that. One potential client who recently contacted me said his one concession in buying a condo in the John Ross Condomiums in the South Waterfront district was to forego a fireplace – but we have a solution for him. Another client in The Wyatt high rise apartments in the Pearl District had a fireplace listed as one of her first items to add to her decor. I was also in the 937 Condominiums in the Pearl District last week and felt sad that for almost half a million dollars, you end up with no fireplace! So, this post is for you! Whether you have a condo in the Pearl or South Waterfront, or a house where there is no built-in fireplace, with today's technology, there is now a fireplace for everyone, every room, and just about every budget! Read on to see several fireplaces that can be added to homes without an existing one. There are free-standing models,  wood burning models, environmentally friendly models, suspended ones and wall hung types. Links on where to shop for these are at the end of the article. Make yourself a nice cup of cocoa and imagine sitting next to one of these!
Pangaea's Picks: Top Ten Fireplaces
1.  Harry Leenders – Hands down, my fave for a suspended, rotating fireplace. Love the sleek lines.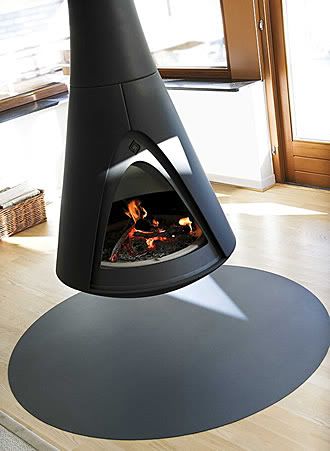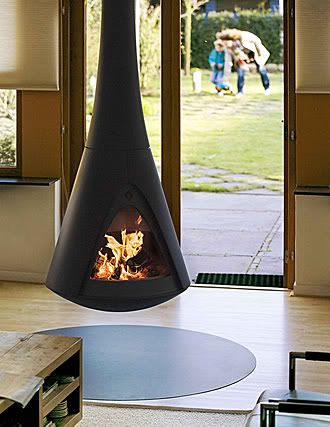 2.  EcoSmart's Denatured Ethanol burning fireplaces can be set into a built in display or they have many free-standing styles. Environmentally friendly and renewable fuel is a plus.

3. This Eurofocus has nice clean lines and is angled to look great in a corner.
4. Rais is just simple and lovely.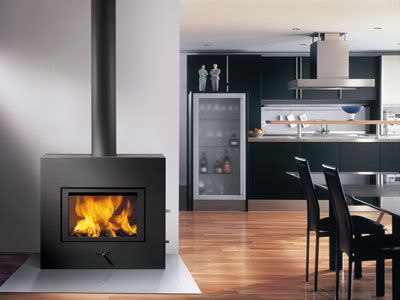 5. What top ten list would be complete without the modern classic Fireorb suspended fireplace?